Centra to partner with Irish Cancer Society for Daffodil Day 2022
Stores to turn yellow across Ireland from March 24th- 27th to support cancer patients and their families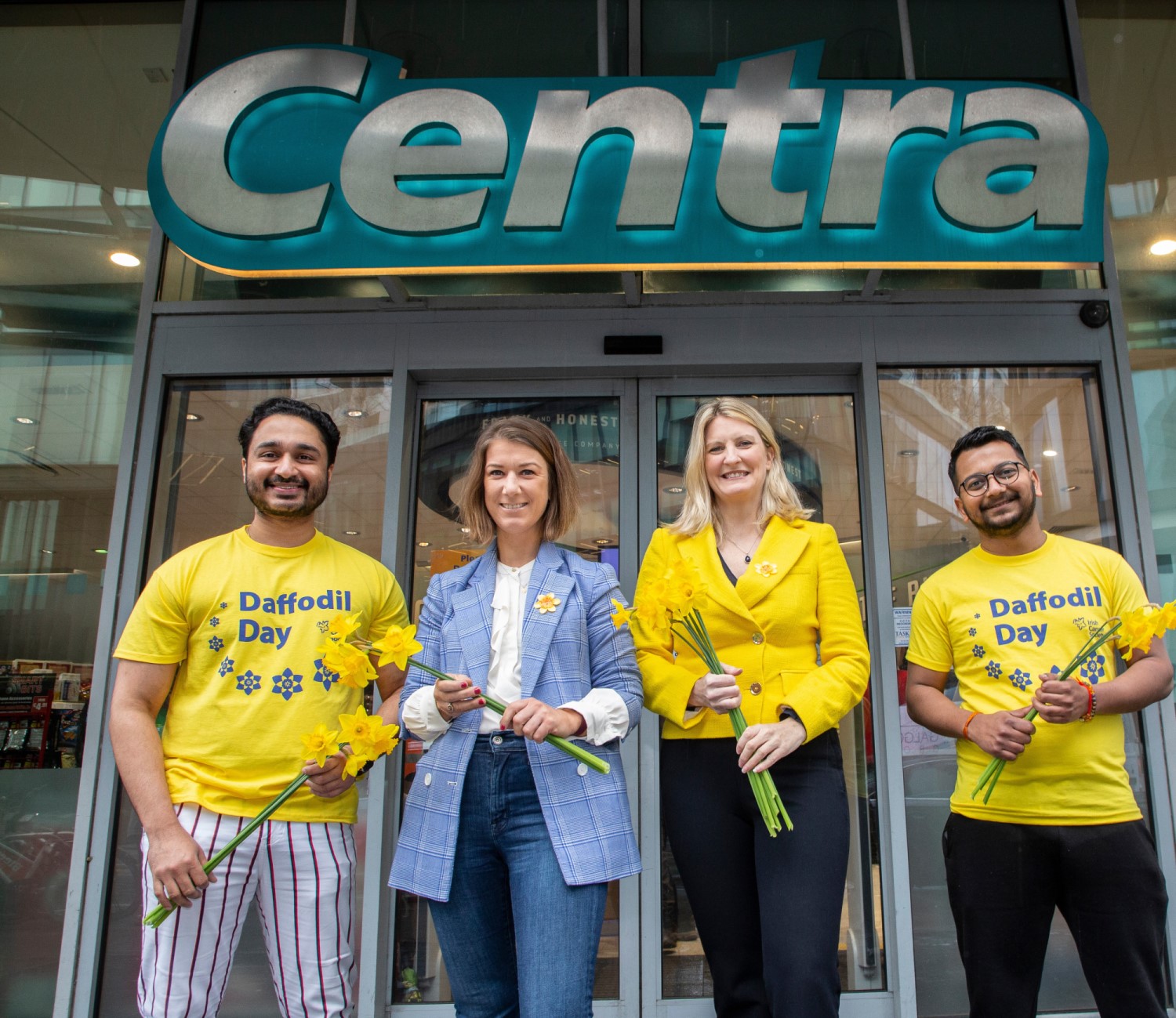 The Irish Cancer Society today announced Centra are proudly supporting Daffodil Day 2022. The Irish Cancer Society's Daffodil Day takes place each March and raises a large portion of the funds required for the Society to provide its services and invest in research.

Centra employees and customers will be marking the partnership in participating stores across the country from Thursday 24th to Sunday the 27th of March to coincide with Daffodil Day which takes place on Friday, March 25th.

Customers will be able to add a €1 donation to their receipt at the till, there will also be bucket collections and additional fundraisers taking place in stores. These much-needed funds will go directly to supporting cancer patients by providing crucial services such as the Irish Cancer Society Freephone Support Line, the Volunteer Driver Service, the Night Nursing Service, and the free Counselling Service in addition to the development of life-saving cancer research.

Centra has proudly supported the Irish Cancer Society's annual breast cancer campaign for the past twelve years. In October 2021, Centra employees and staff raised over €150,000 for the 'Care for Your Pair' breast cancer awareness campaign.

Speaking at the announcement, Averil Power, CEO, Irish Cancer Society, said, "We are delighted to be partnering with Centra for our Daffodil Day 2022 campaign. Over the past twelve years, Centra has been a key partner for our breast cancer campaign, we are delighted to now extend this partnership to our flagship fundraiser, Daffodil Day. We are always amazed to witness the support and enthusiasm that is shown for cancer awareness in Centra stores across the country.

The funds raised during Daffodil Day in Centra stores will play a vital role in providing free support services and care to people affected by cancer while also helping to develop ground-breaking cancer research. I would encourage everyone to visit their local Centra stores from the 24th to the 27th of March to show their support to those impacted by cancer in their community.

Speaking about the partnership, Ian Allen Managing Director Centra said, "We are delighted to partner with the Irish Cancer Society in support of Daffodil Day 2022. Community matters to Centra and our 480 stores around the country are committed to doing what they can to ensure that Irish Cancer Research Society raise the funds they need. Our retail partners, colleagues and customers nationwide are acutely aware of the importance of the research, awareness and support that Irish Cancer Research Society brings to every community in Ireland. We look forward to a successful Daffodil Day and call on our communities to tap and donate between March 24th-27th."

For further information about the Irish Cancer Society's Daffodil Day campaign, visit www.cancer.ie/daffodilday

ENDS

For more information contact Irish Cancer Society Communications Officer Fiona Keaveney on 0876453867/ communications@irishcancer.ie
Notes to editor
Anyone with concerns or questions about cancer can contact the Irish Cancer Society Support Line on Freephone 1800 200 700 and SupportLine@IrishCancer.ie
Ways to support Daffodil Day
Donate at www.Cancer.ie/Donate or over the phone on 0818 10 20 30
Sell Daffodil pins in your local community
Donate through Facebook, Instagram or JustGiving
Register for our steps challenge at www.cancer.ie/ways-to-help/fundraise/daffodil-day/get-involved-this-daffodil-day/take-part-in-our-steps-challenge-this-march
Purchase Daffodil Day items on our online shop
Purchase a Daffodil pin and donate at Centra stores nationwide
Revolut users can donate to the Irish Cancer Society through the 'Donations Tab' on the Revolut app
By texting DAF, DAFF or DAFFODIL (€4) to 50300
By getting your primary school, secondary school or company involved: www.Cancer.ie/GetInvolved