Go back
Cider Baked Ham with Honey & Brown Sugar Glaze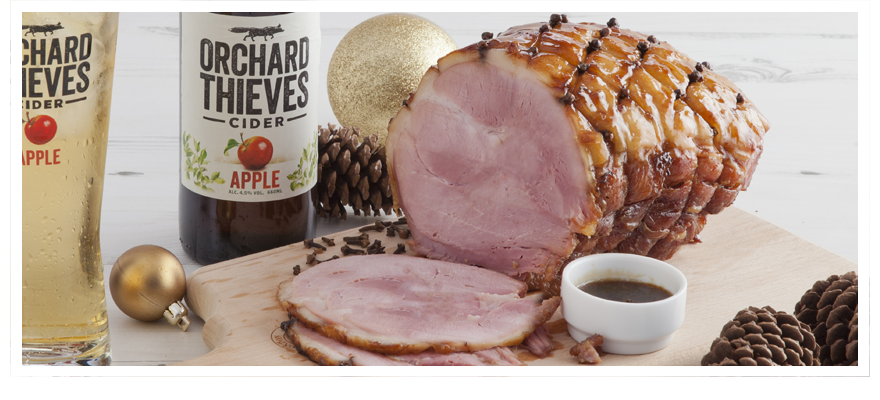 Boil ham as per instructions on packaging, follow these simple instructions and enjoy!
Method
Preheat oven (160 degrees).  Place ham, fat side up, in a shallow roasting pan.
Combine Orchard Thieves apple cider, cinnamon, cloves and allspice in a small saucepan.  Heat to boiling.  Cover and simmer for 5 minutes.  Pour over ham
Bake ham in preheated oven, basting every 10 minutes with cider sauce from pan, for about 30-45 min.
Remove ham from oven.  Increase oven temperature to hot (200 degrees).  Score diagonal lines in fat with tip of knife to form diamond shapes, being careful not to cut into meat.  Stud each diamond with whole clove if you wish.
Combine brown sugar and honey in a small saucepan.  Heat over low heat, stirring, until sugar is melted.  Brush over top of ham.
Return ham to hot oven.  Bake 20 minutes longer, brushing after 10 minutes with the remaining honey mixture, until brown and glistening and an instant-read meat thermometer reads 160 degrees.
Remove ham from oven.  Let stand 20 minutes before slicing.
Enjoy!
More Recipe Ideas
Back to dashboard