Welcome to Centra's French Wine Sale!
We've chosen some French heroes for you to enjoy at prices that won't hurt your pocket. View a selection of the offers below and see instore for more fantastic French wine offers. Join in the fun on our social media channels using #CentraWine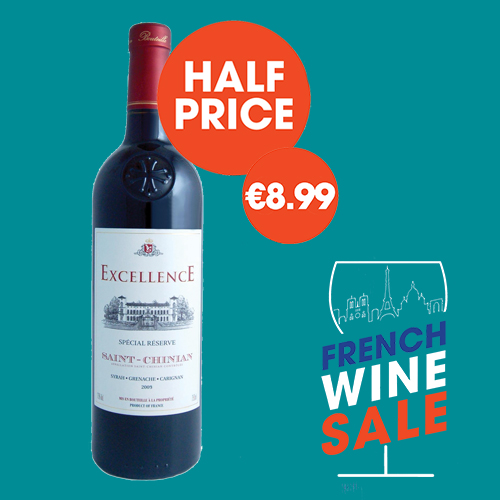 EXCELLENCE SAINT CHINIAN 75CL WAS €17.99 NOW €8.99
Selected from the Cevennes mountains in the South; this is an excellent blend of Syrah, Grenache and Carignan and it has aromas and flavours of red berries with hints of wild herbs.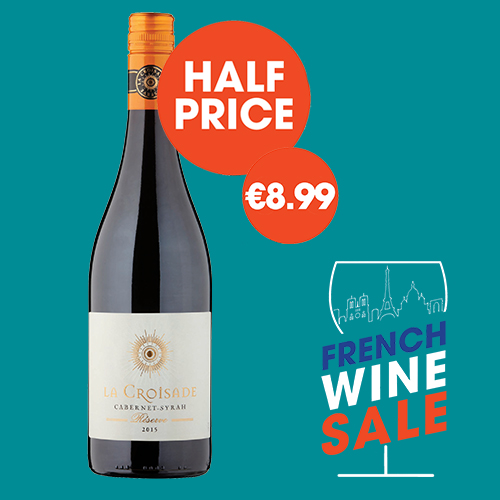 LA CROISADE CABERNET SYRAH 75CL WAS €17.99 NOW €8.99
A brilliant range of wines that over delivers for the price, with a classic characteristics you come to expect from each variety.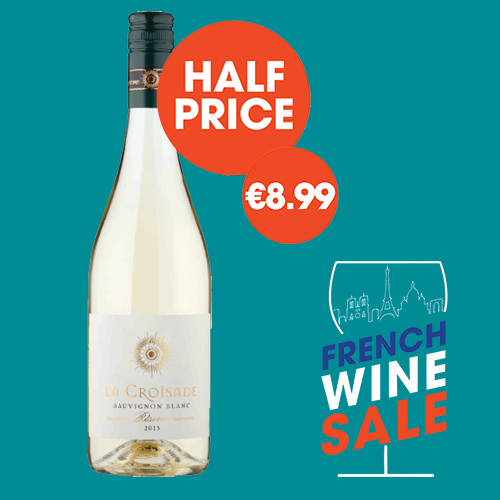 LA CROISADE RES SAUVIGNON BLANC 75CL WAS €17.99 NOW €8.99
A brilliant range of wines that over delivers for the price, with a classic characteristics you come to expect from each variety. The Sauvignon Blanc has all the citrus notes you've come to expect, making it perfect for fish and Asian dishes.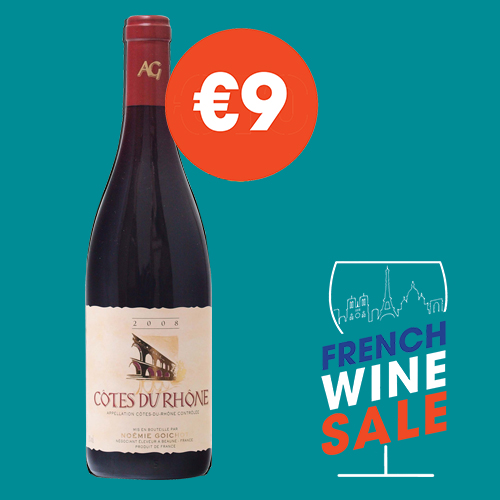 COTES DU RHONE ANDRE GOICHOT 75CL WAS €11.99 NOW €9.00
Primarily made from the Grenache and Syrah grapes, this wine has no oak influences and delivers a warm jammy black fruit flavour that is perfect with roast vegetables.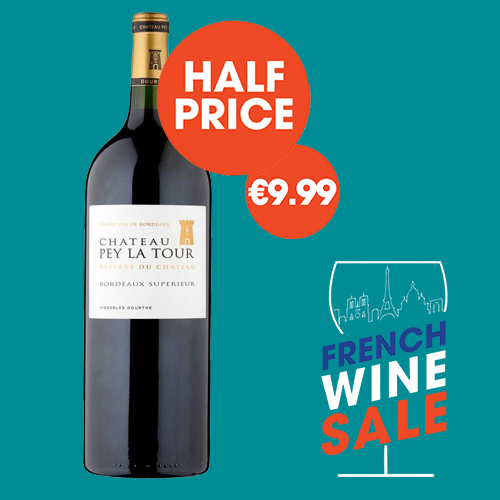 CHATEAU PEY LA TOUR BORDEAUX 75CL WAS €19.99 NOW €9.99
Chateau Pey la Tour is a benchmark for great value and quality situated at one of the highest points between Bordeaux and St Emilion. Mainly its dark fruit aromas and spice combine with a medium body delivering a great match for seasoned steaks with earthy flavours.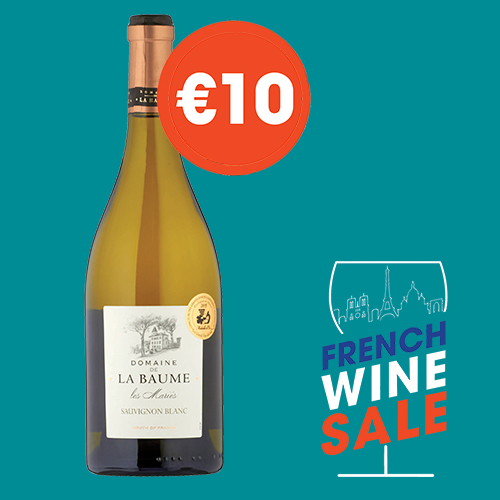 DOMAINE DE LA BAU LES MAR SAUVIGNON BLANC 75CL WAS €12.99 NOW €10.00
French Sauvignon tends to show more mineral content which is very welcome if matching with food. The subtle elegance and citrus flavours wash over the palate easily with an enjoyable finish.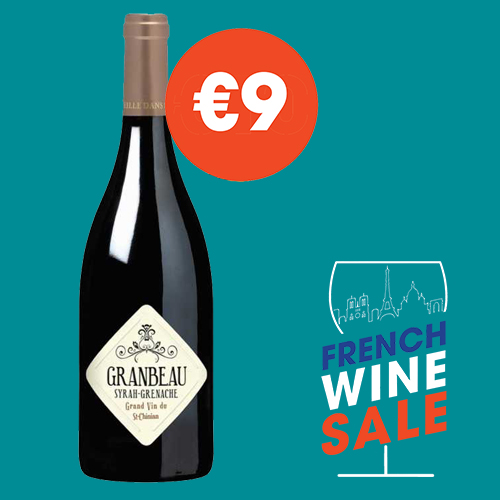 GRANBEAU SYRAH GRENACHE IGP 75CL WAS €13 NOW €9.00
This full-flavoured and spicy red is made of a selection of typical grapes from the South of France. Intense bouquet of blackcurrant and blackberry with subtle liquorice overtones. A very good example of what the Languedoc region can produce.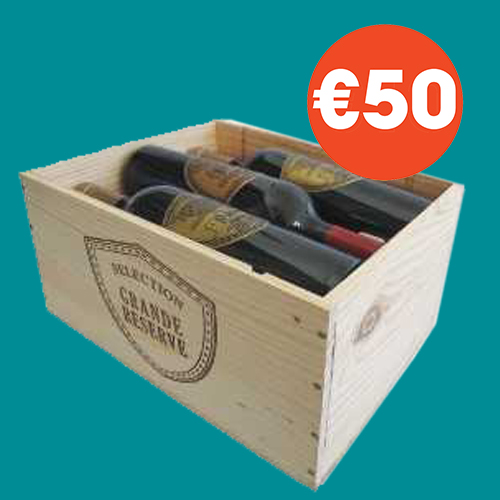 SELECTION GRANDE RESERVE CASE DEAL 6X75CL
These stunning wines are both from protected geographical regions in France. Chateau Calmette (AOP Saint Chinian) is dense and rich, it has smooth tannins and a subtle spicy finish. Chateau Terviac (AOP Corbiéres) fruity on the palate, it has a huge density and an endless finish.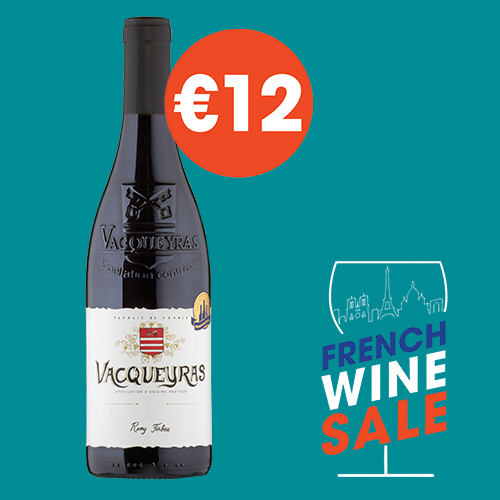 VACQUEYRAS REMY FERBRAS 75CL WAS €20.99 NOW €12.00
With so much going on in France, you really can't afford to ignore this wine; known as the little brother to Chateauneuf du Pape but delivering all the same great taste. Smooth with ripe black fruits, nice texture and an elegant finish - great with duck and roast meat dishes.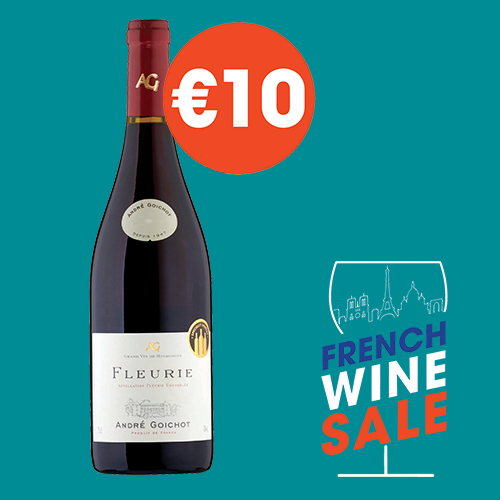 FLEURIE ANDRE GOICHOT 75CL WAS €14.99 NOW €10.00
You don't automatically think red wine with fish and yet this red berry and soft texture wine lends itself wonderfully well with wines with a berry sauce or the fuller flavours of steamed Salmon.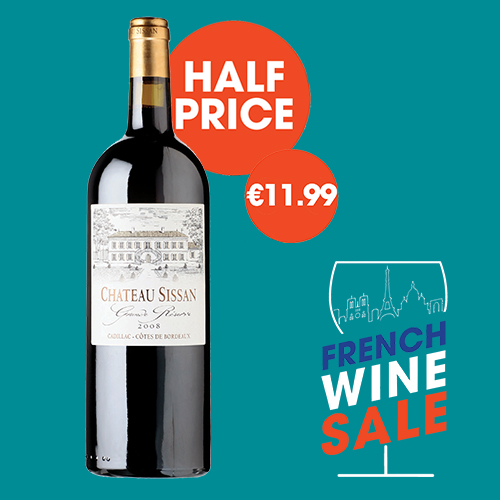 CHATEAU SISSAN GRAND RESERV BORDE 75CL WAS €23.99 NOW €11.99
From the town Cadillac in the heart of Bordeaux comes a full bodied wine with traditional blackcurrant flavours, but most importantly for a Bordeaux, it is very elegant and ideal for roast meats.
Offers valid until Wednesday 16th May 2018 unless otherwise stated.