Nutrition & Health
One of the biggest issues when it comes to nutrition is that there are so many people out there talking about nutrition and so many confusing messages.  
As we learn more about how diseases like heart disease and cancer develop, we know that by eating well and staying active we can have a real impact on the length and quality of our lives.
Did you know that if you follow 4 major health habits you could live up to 14 years longer than other people? These are: not smoking, alcohol in moderation, staying active and eating 5 servings of fruit and vegetables everyday.  Not rocket science and yet few of us get the 150 minutes of exercise we need every week and less than 10% of people in Ireland eat their 5-a-day.
Poor nutrition and lack of exercise can have an impact throughout our lives.  66% of people in Ireland are overweight or obese and the WHO predict that this will jump to almost 90% of people by 2030.  But health is not just about weight.  74% of teenage girls and 48% of women in Ireland do not eat enough iron.  Children are not eating enough calcium or vitamin A and it is estimated that almost 80% of people in Ireland are not getting enough vitamin D.  Even toddlers are missing their nutrition targets with 1 in 4 not eating enough iron.
Nutrition Education
At Centra we want to help take the guess work and the confusion out of nutrition by helping to provide clear, accurate advice on nutrition that is based on up-to-date science.
Live Well in Centra focuses on three key areas.  These are:
- Helping customers make healthier choices
- Inspiring and educating our shoppers on health
- Getting Ireland moving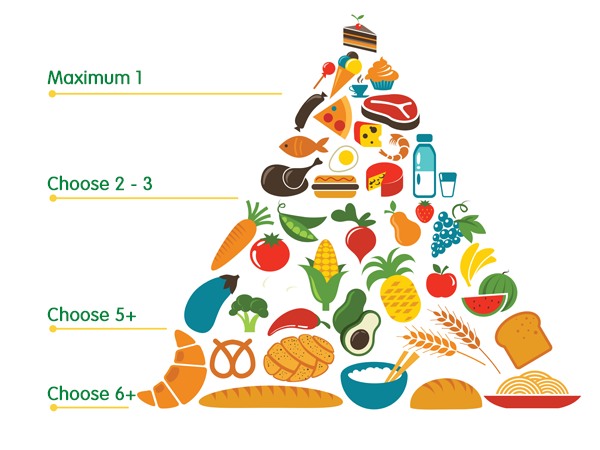 Helping Customers make Healthier Choices
At Centra we want to become the source of accurate nutrition information for consumers – information that is easy to understand and based on real science.  We want to help make the healthy choice the easier choice by highlighting foods that are rich in key nutrients or lower in salt or saturated fat.  We want to do this in a way that consumers can easily understand and act on.  We want to help cut through all of the conflicting nutrition advice that is out there and to help people see that they don't need to go to extremes for health.
People make their real choices about food at the moment they buy it which is why it is so important to have the key informtion on nutrition available  in store. What someone puts in their basket is what goes on the table at home and has the potential to affect their health as well as the health of their family.  This is what Livewell is all about – helping consumers to navigate all the conflicting messages about nutrition and making the healthy choice the easy choice when they are actually buying their food
Inspiring and Educating
The second key element of Live Well is about us inspiring and educating our shoppers. We can't force anyone to eat healthily but we can have information available to help people who want to make healthier choices.  We are working on having more healthy options in store and highlighting to customers why they are a better choice.  With the right information and a range of tasty options, making choices for healthier eating is that bit easier.
Click Here to see the Safe Food website for more information.
Getting Ireland Moving
The third key element of Live Well is about getting Ireland moving.  Good nutrition is just part of a balanced, healthy lifestyle – being active is also essential. Centra is heavily involved in the GAA at local and national level, supporting activity in our local communities.  Many of our stores run walking clubs and we are active with our Annual Breast Cancer Walk.  Physical activity goes hand in hand with good nutrition for health and Centra has an active role to play in helping our customers and communities moving.